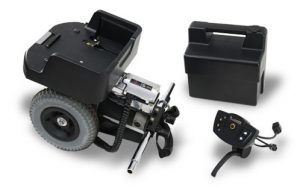 AGIS Power-Assist for manual wheelchair will turn most manual wheelchairs into caregiver-controlled powered manual wheelchairs. AGIS Power-Assist takes the strain out of pushing a heavy wheelchair user and makes pushing easier for ramps and gradients. This dual wheel AGIS Power-Assist can be easily fitted and removed within seconds, and adapts to fit most wheelchair sizes.
Allows speed of up to 6.4KPH
Travels up to 10KM on a full battery charge
Easily  fitted or removed within seconds
VR2 50A controller features a fully programmable and comprehensive fault management system
Push and slide-away battery removal slot
It is very portable, making transportation easy and simple
Fits most standard wheelchairs up to 20" seat width
Comes with a Carry Holdall with shoulder strap
Simple to manoeuvre and reverse
The Power-Assist unit has a powerful 200 watt, 24V motor, capable of coping with most terrains
Maintenance free airline friendly 24V 12ah valve regulated sealed lead acid battery pack
1.8A charger as standard for off-board charging
Height adaptor brackets are available to allow the telescopic bar at the front of the powerpack to be installed at its standard height or at a new height approx. 2" (5cm) lower
This is ideal for installation on wheelchairs, that have a higher or lower horizontal bar or lack a hemi-shape
The brackets are supplied in pairs with all required fasteners
Call us now to enquire!
AT A GLANCE
| | |
| --- | --- |
| Power Assist size ( L x W x H ) | 880 X 400 X 390mm (34.6″x15.7″x15.3″) |
| Base weight | 47.7 kg |
| Battery weight | 19.3 kg |
| Total weight | 30.5 kg |
| | |
| Controller | |
| Rear Wheel | 100 X 225mm x 2pcs Solid Tire (4″ x 9″) |
| Anti-tip wheel | 4″ / 100mm |
| Battery | 12 AH 12V X 2 (Optional 20AH) |
| Charger | 1.8A Off-Board |
| Charging Time | >6 hours |
| Motor | 200W 4700rpm |
| | |
| Max. speed | |
| Est. Cruising range | 6 ~ 10 km |
| Weight capacity | 250lbs / 115kg |
| Maximum climbing angle | <6° |
| | |
* All features and specifications are subject to change without notice