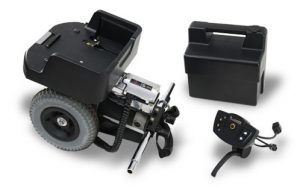 AGIS Power-Assist for manual wheelchair will turn most manual wheelchairs into caregiver-controlled powered manual wheelchairs. AGIS Power-Assist takes the strain out of pushing a heavy wheelchair user, making pushing easier for ramps and gradients. The dual wheel AGIS Power-Assist can be easily fitted and removed within seconds, and adapts to fit most wheelchair sizes.
Allows speed of up to 6.4KPH
Travels up to 10KM on full battery charge
Easily fitted or removed within seconds
The VR2 50A controller features a fully programmable and comprehensive fault management system
Push and slide-away battery removal slot, making it easy to remove or put in the battery
It is extremely portable, making transportation easy and simple
Fits most standard wheelchairs up to 20" seat width
Comes with a "Carry Holdall" with shoulder strap
Simple to manoeuvre and reverse
The Power-Assist unit has a powerful 200 watt, 24V motor, capable of coping with most terrains
It contains a maintenance free and airline friendly 24V 12ah valve regulated sealed lead acid battery pack
Contains a 1.8A charger as standard for off-board charging
Height adaptor brackets are available to allow the telescopic bar at the front of the power pack to be installed at its standard height or at a new height approx. 2" (5cm) lower
Ideal for installation on wheelchairs, that have a higher or lower horizontal bar or lack a hemi-shape
The brackets are supplied in pairs with all required fasteners
Call us now to enquire!
AT A GLANCE
| | |
| --- | --- |
| Power Assist size ( L x W x H ) | 880 X 400 X 390mm (34.6″x15.7″x15.3″) |
| Base weight | 47.7 kg |
| Battery weight | 19.3 kg |
| Total weight | 30.5 kg |
| | |
| Controller | |
| Rear Wheel | 100 X 225mm x 2pcs Solid Tire (4″ x 9″) |
| Anti-tip wheel | 4″ / 100mm |
| Battery | 12 AH 12V X 2 (Optional 20AH) |
| Charger | 1.8A Off-Board |
| Charging Time | >6 hours |
| Motor | 200W 4700rpm |
| | |
| Max. speed | |
| Est. Cruising range | 6 ~ 10 km |
| Weight capacity | 250lbs / 115kg |
| Maximum climbing angle | <6° |
| | |
* All features and specifications are subject to change without notice