Electrostatic Disinfectant Spray has a 360-degree, touchless disinfection and sanitizing capabilities for a safer world.
Seeing that infection control solutions were not evolving to meet the needs of today's companies, citizens, and planet, EarthSafe's founders set out to develop EvaClean; an Infection Control system that is as practical as it is revolutionary.
In developing the system, EarthSafe insisted that, in addition to being free of harsh chemicals that harm our health and our environments, it must be as efficacious and cost-efficient as traditional cleaning solutions, while enabling more consistent use and better performance. The result is an infection control system that is a clear choice for businesses large and small, and that is helping to make our world a safer, healthier place for all.
Does the sprayer have a safety certification?
All of our sprayers have ETL Certification which is the equivalent to UL and certifies that the products have met all the minimum safety standard requirements established by OSHA and carried out by Nationally Recognized Testing Laboratories. The selection of either certification largely comes down to the ETL having a larger pool of testing facilities and the ability to process registrations faster than UL.  Neither carries any benefit over the other.
How do I explain that the sprayer is not a mister or a fogger?
The electrostatic charge of the sprayer allows the droplets to attract to the surface rather than float in the air, as is typically associated with a mister or fogger.  Misters and foggers are associated with worker exposure and respirable concerns. EarthSafe has conducted OSHA and NIOSH third party testing ensuring that there are no safety concerns for acute or long term worker exposure. It was established that exposure levels or PURTABS when sprayed with the Protexus Electrostatic Sprayer fall below established Permissible Exposure Levels (PEL).
What is PURTABS made of, what chemicals are in it?
The PURTABS Chemistry is based around NaDCC, an organic chlorine donor which yields Hypochlorous Acid (HOCl) and Monosodiumcyanurate (NaOCl) when dissolved in water.  This solution results in a free available chlorine count (ppm) that is easily measurable with test strips to ensure the solution concentration is consistent with usage guidelines and all of the efficacy claims and data that are on our EPA Registered Label.  There are 3 disinfectant tablet size options to make mixing the proper concentration simple.
How will this meet Hospital guidelines and standards required?
It is an EPA registered hospital grade disinfectant which is an obvious requirement for any chemical disinfectant or sanitizer and strictly measures the efficacy of the chemical itself. PURTABS sprayed with the Protexus Electrostatic Disinfectant Spray was independently tested and verified that exposure levels fall below established Permissible Exposure Levels (PEL) in compliance with OSHA and NIOSH.
Where can I use this product on? Is it safe to do so?
It can be used in food and beverage industries, healthcare, education and sports facilities.
FOOD AND BEVERAGE INDUSTRIES
Protecting your diners and your reputation. The public places a great deal of trust in food industry workers. Maintaining that trust requires upholding the highest standards of cleanliness and safety
HEALTHCARE
Reducing the health and financial risks of HAIs. Healthcare providers have an inherent duty to protect patients from getting sick during visits, and to give staff a healthy, safe environment in which to work. Healthcare Associated Infections also pose financial risks, due to the significant fines for non compliance with CMS guidelines and legal action brought by infected patients.
EDUCATION
Keeping students healthy from preschool to PhD. From local preschools, where infections like Norovirus, Hand Foot and Mouth Disease, and Flu can run rampant to college campuses where meningitis, MRSA, and others are a real risk, schools are under pressure to do more to promote a healthy environment. Student absenteeism can negatively impact the students' as well as school's performance, and, in some cases, is a threat to state funding. Employee absences come with significant costs.
SPORTS FACILITIES
Keeping your members happy and healthy. People join gyms and visit athletic facilities to improve their health and their lives. Facilities owe it to their members to provide a clean, infection-free environment that promotes good health. Yet there are continued reports of members contracting MRSA, staph, and other illnesses. It's tough for a gym to keep up.
Email us @ sales@agis.com.sg or visit us to find out more information about the Electrostatic Disinfectant Spray.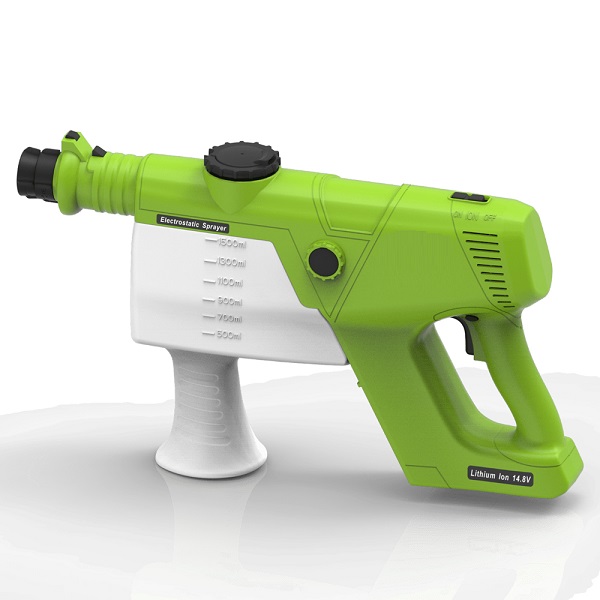 AGIS 1.5l Handheld Electrostatic Sprayer
AGIS 6.5l Backpack Electrostatic Sprayer