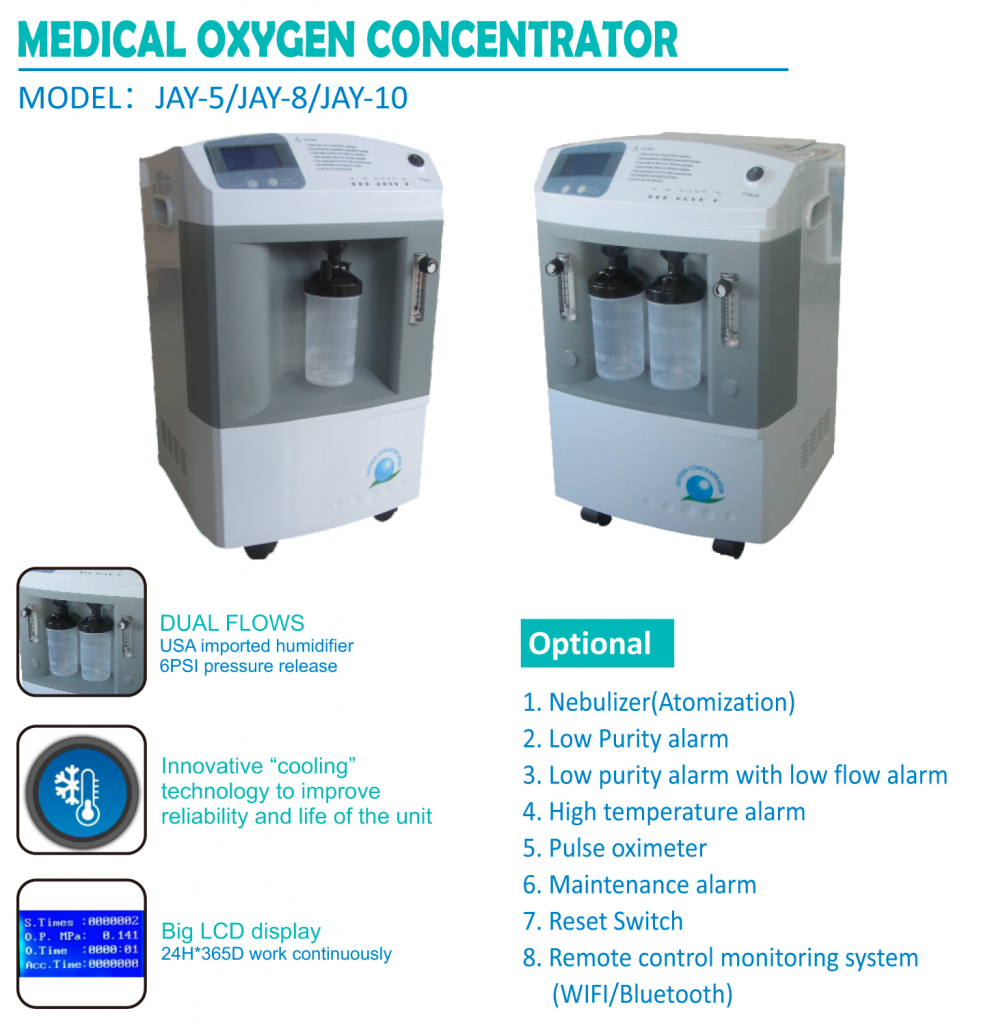 Haier Medical Oxygen Concentrator is beneficial to cure respiratory, heart, cardiovascular and chronic pulmonary diseases, as well as other diseases requiring concentrated oxygen as key examples. One example is Chronic Obstructive Pulmonary Disease (COPD) which requires at least 15 hours a day. For more details visit SGH website.
HAIER JAY-10 comes in dual flows model which has flow rate of 0-10 liter per minute. It is mounted on castors wheel so that the unit is movable around in the house. Optional features are available as add-on.
Haier Medical Oxygen Concentrator Features
Dual Flow Model High quality humidifier with 6PSI pressure release
Multiple Alarms Multiple alarms are optional to guarantee stable performance
Innovative "Cooling" Safe and secure, improved reliability, extended life of unit
Sieve Bed Imported lithium molecular sieve durable, high efficiency
Large LCD Display Operates continuously for 24h* 365days
Medical Grade Material Environmentally friendly material
Product Parameters Outlet Pressure (MPA) – 0.04-0.07 (6-10PSI) Consumption (W) – ≤880
Details
Specification
Flow Rate
0-5LPM / 0-8LPM/ 0-10LPM
Net Weight
26KG / 26KG/ 27KG
Size
365 x 375 x 600mm
Purity
93% (±3%)
Outlet Pressure
0/04 – 0.07MPA (6-10PSI)
Noise Level
≤ 50db
Power Consumption
≤ 550w / ≤ 550w / ≤ 880w
LCD Display
Switch time,
Operating pressure,
Present working time,
Accumulated working time,
Presetting time from 10mins to 40hours
Alarm Fault
Power failure
High and low pressure
Call us @ +65 6259 9788 , WhatsApp @ +65 9760 9788 or email us @ sales@agis.com.sg for more details.
Export to Myanmar direct is possible through AGIS Medical partner there.